.The Fireplace & Stove Co. are a family-run business with over 30 years' experience in the fireplace and stove industry. The fireplace is the heart of any home and whether your tastes are traditional or contemporary, we will work with you to make your fireplace an outstanding feature in your home. We offer a friendly and professional service that caters for all types of installation – whether it be a new fireplace and stove or a replacement flue system. Our website offers a snapshot of our extensive range of products. Please contact us for information on products you cannot not find here.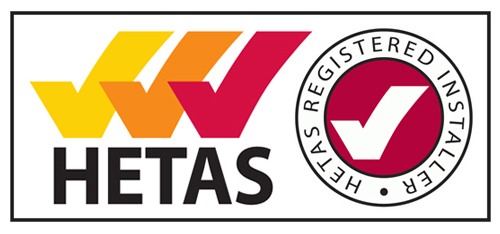 The Fireplace & Stove Co. are HETAS registered installers. Our work is routinely inspected and we are required to undertake regular refresher courses so you can be sure your installation will comply with upto date regulations.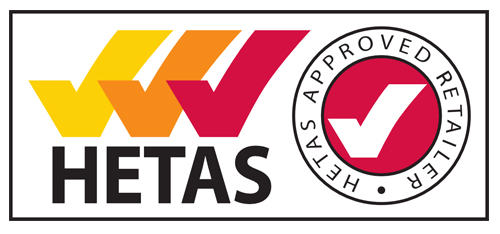 All HETAS approved retailers have HETAS trained showroom staff, meaning quality advice is given. It also ensures an excellent service at all times. The Fireplace & Stove Co. are the only HETAS approved retailer in Lichfield.

OUR COMMITMENT TO THE FUTURE OF OUR PLANET
All stoves at the Fireplace & Stove Co. are ECODESIGN 2022 compliant and are DEFRA approved.

New wood burning stove regulations came into effect on 1st January 2022. ECODESIGN 2022 is a Europe wide program to limit the emissions of wood burning and multi fuel stoves. All our stoves adhere fully to these regulations.

WE ARE MORSØ STOVE SPECIALISTS
Morsø has been a leader in quality, design and innovation, manufacturing cast iron solid fuel stoves for 160 years. Established in 1853, Morsø was born from an iron foundry on the Limfjord island of Mors in Denmark. In 1915 King Christian X gave Morsø permission to use the term 'Purveyor to the Royal Court', illustrating our long association with Danish heritage. The cast iron wood-burning stoves we have long produced fuse tradition with contemporary design, and it is this discerning ability to create classic looking stoves that reflect modern trends which is what makes them so popular.
At The Fireplace & Stove Co. we pride ourselves on our principles of excellence and tradition by combining design with attention to detail and quality of finish.
Our service does not end when your install is complete. For peace of mind it is important that you feel secure and confident that the people supplying you with your stove are the same people installing your stove. Therefore we are always available to help and support you after the installation. Whether it is using the correct wood, requiring some extra support later on with the operation of your stove or just some friendly advice – WE ARE HERE FOR YOU.
It is important to remember to keep your stove serviced and well maintained. You will require an annual chimney sweep to keep your manufacturers warranty valid. This is a service we can provide for you.

WE ARE DIK GUERTS STOVE SPECIALISTS
Dik Geurts, which was acquired by DRU in 2007, is now the brand that represents our distinctive, contemporary wood burning stoves and wood fire inserts. DRU has harnessed the knowledge, experience and expertise behind the Dik Geurts brand to produce a range of wood burning and multi-fuel products that cover all domestic applications.  You can choose from classic, no nonsense woodburners, versatile solid fuel stoves, curvaceous and panoramic 3-sided log burning stoves and inset wood fires that will not look out of place in any style of home.
Dik Geurts wood fires and stoves are easy to use, energy efficient, clean burning and built to stand the test of time.
Elegant Room Centrepieces
Multi Fuel & Wood Burning Stoves
Contemporary to Traditional
Here at The Fireplace & Stove Co. we offer the complete package. From the minute you walk into our showroom until the very first time you light your new stove.
Please visit our Lichfield showroom, situated at the Heart of the Country Shopping Village, where you can browse in various boutiques and craft centres or you can spoil yourself in one of the sites three eateries. There is a large carpark offering free parking and disabled parking.
We've installed fireplaces and stoves for many years across all of Staffordshire, the West Midlands and Derbyshire including:
• Aldridge • Birmingham • Burton • Cannock • Derby • Lichfield• Stafford • Sutton Coldfield • Tamworth • Walsall


BOOK YOUR FREE HOME SURVEY
If you have any questions or any further information on any of our products please don't hesitate to give us a call or drop us an email.
Contact us today for further details or information.
Address: 23, Heart of the Country Shopping Village, Lichfield, Staffordshire WS14 9QR
Telephone: 01543 480444
Email: info@thefireplaceandstove.co.uk
Opening Hours:
Mon: Closed
Tue: 10am till 4.00pm
Wed: 10am till 4.00pm
Thu: 10am till 4.00pm
Fri: 10am till 4.00pm
Sat: 10am till 4.00pm
Sun: 10am till 3.00pm